Intro:
What does Theodole do?
The Sales...and the complete Restoration of magnets & dynamos (no repairs) for Motorcycles,Cars,Aeroplanes,Tractors and Stationairy Engines of mainly Lucas,BTH and Bosch.
From Lucas,Bosch and also the Bosch D-types all parts are in stock,except a few very rare parts.

From other Bosch types, and there are many, most are in stock.
Its not hard to find the right magnet or dynamo;
Theodole is in:
- HOLLAND -
- BELGIUM -
- ENGLAND -
- DENMARK -
- GERMANY -
A sample of other brands in stock:
ENGLISH:
BLIC
BTH
EIC
BLV
CAV
FELLOWS
HILL
LISTER
Lucas
MILLER
ML
RUNBAKEN
SIMMS
THOMSOM-BENNET
WATFORD
WICO
AMERICAN:
AMERICAN BOSCH
BERLING
DIXIE
EDISON
EISEMANN
FAIRBANKS
IHC
KW
SPLITDORF
GERMAN:
DEUTZ
NORIS
SIEMENS
FRENCH:
BOULTON
LAVALETTE
LAVALETTE-BOSCH
MAGNETO FRANCE
MAGNET LYON
MEA
NILMELIOR
NOVI
RB
SAGA
SWISS:
SCINTILLA
ITALIAN:
MAGNETI
MARELLI
MOREL
SWEDISH:
AMAL
SEM
How does Theodole restore?
MAGNET:
The magnet is completely disassembled.
The spool is ALWAYS winded with a
modern condensator. All parts, except
bearings, blasted with glass pearl.
Bolts-nuts-studs-lids and clips updated.
Magnets from before 1930, nickel plated,
and after 1930 technically chromed, that
is mat chrome; zinc will not stay good.
Bearings new enclosed.

All non-original, broken or worn out
parts replaced! Reassemled with
conventional cable and lid. Comes with
new type-plate. Remagnetised Tested under
'Live' circumstances. This means
seriously heated, as can happen on a
motorcycle. The spark must stay good at
low RPM (kickstart) and high RPM (driving).
DYNAMO:

The dynamo is completely disassembled.
Anchor and field are tested.
The collector tested for breaches and thickness.
If the anchor and collector are still good a new rope is wound around the collector wires.
This is enamelled with isolating varnish and the collector is torn out.
Eventually the forward axle is replaced, this is mostly,bent, worn out or beaten (especially conusses),if not, then restored.
If the field is still good, new wires are attached, a new band is supplied and this wil be enamelled with isolating varnish.
All parts nickel plated or technical chrome plated!
All non-original, broken or worn out parts replaced!
Reassembled, poled and tested.
Eventually supplied with electronic regulator earthed negative or positive.
The dynamo can also be converted to 12 volt.

ONLINE:

Rebuild Website:
April 29th 2011 16.54 o'clock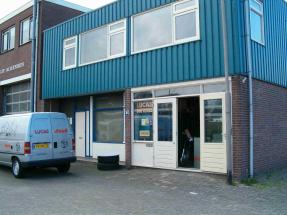 LAST UPDATE:
03 JANUARI 2016 17.33 o'clock




victrace
sitebuilding